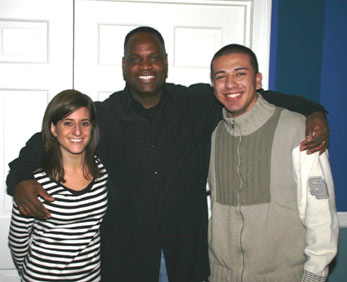 On Friday, December 12, approximately 70 young adults, all participants of the popular and meaningful Mount Vernon Youth Bureau, attended a celebratory dinner sponsored by Youth Voices Center, Inc. at a local Mount Vernon restaurant.
The Mount Vernon Youth Bureau teamed up with Youth Voices Center, Inc. for the event, a non-profit organization which has the sole purpose of improving the lives of young people throughout the tri-state area.
The Mistress of Ceremonies for the evening was DaMia Harris, acting director of the Mount Vernon Youth Bureau, who has become increasingly popular with many of Mount Vernon's youth.
After her introductory comments and naming of dignitaries in attendance, Harris introduced Michael Arterberry, founder and executive director of Youth Voices Center, Inc. Arterberry is also the creator of the Power of Peace Program, comprised of workshops expressly designed to help young people understand life, responsibilities and challenges and to provide them with the necessary tools to succeed and make a positive impact. The Power of Peace Program has proven successful in many school districts due to Arterberry's experience and passion for working with youth.
"So many times Mount Vernon gets unjustified negative press. Yet, people have no idea about the wonderful young people that are here in Mount Vernon. We have some shining stars here and people need to understand that and realize that. So pass that on to your peers," said Arterberry.
After addressing the young guests, Arterberry introduced an inspirational speaker by the name of Mark A. Barmore, a parolee who was shot 14 times by police and miraculously survived. He consequently spent six years at the Green Haven Correctional Facility, located in Stormville, NY. Due to his parolee status, Barmore had to obtain special written permission to attend the dinner, thus allowing him to travel from his home in Schenectady to Mount Vernon. He was discovered by Arterberry while participating in a national program known as AVP (Alternatives to Violence Projects) at Green Haven, "On September 14, 2002, in Schenectady, NY, I was shot 14 times by Schenectady police. Surgeons struggled to save my life and I was told I would never walk again. It was all a direct result of me wanting to do what I wanted to do, and not taking responsibility for my actions. I ran the streets and sold drugs, and the end result was that I did six years at the Green Haven Correctional Facility. Before I arrived at Green Haven, I made a decision to turn my life around, and physically I am back to normal. While in my hospital room I told myself that I had to do something different. When I first arrived at Green Haven I joined Alternatives to Violence (AVP), which showed me how to use my anger in a positive way. My criminal history is all about violence, but that has now changed, thanks to people like Mike Arterberry, who I met at Green Haven, and whose program I am now a part of as a free man," said Barmore.
Arterberry's efforts and positive results are being noticed by experts in the law enforcement, educational and correctional fields, and his workshops continue to expand.
Beginning with a Bachelors Degree in Social Work from Iona College, Michael has had a long and successful career in working with youth. He began his career as a Case Worker, monitoring the care of children with foster families. He moved on to become an Independent Living Specialist, providing counseling, teaching life skills and ultimately touching the lives of hundreds of children. Michael then began working in the school system in Westchester as a Counselor. In this role, he participated in and implemented individualized service and support plans for at-risk youth and their families.
Arterberry's ability to reach out to, guide and encourage those around him has enabled at-risk teens to thrive in their communities. His enthusiasm for helping children become productive members of society has led him to a career in Youth Development and has fostered life-long friendships.
In 2002, Arterberry became a volunteer for the Alternative to Violence Project (AVP) in Green Haven Correctional Facility. Through extensive training by the prisoners, he became a certified AVP Facilitator. Based on his experiences obtained through AVP and his passion for working with youth, Arterberry then developed the Power of Peace Program.
Other guess speakers at the dinner included Mount Vernon police officer, Shawn Harris, a School Resource Officer, and Mayor Clinton I. Young.
Arterberry can be reached at (914)329-3427 for additional information about his program.