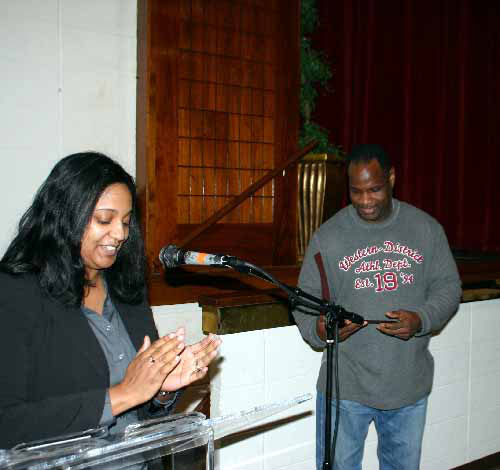 The Inquirer
On Tuesday, December 7, approximately 65 young adults, all active members of Youth Voices Center, Inc., and members of the Mount Vernon Youth Bureau, attended a holiday dinner at Allen Memorial Church in Mount Vernon.
Youth Voices Center, Inc. is run by Michael Arterberry, the Executive Director, whose overall goal is to improve the quality of life of young people through positive youth development in a safe and supportive environment, and to encourage youth to become active, productive members of their families, schools and communities.
The large gathering of youth who attended the dinner attend special work shops at Allen Memorial Church on Saturdays, and the dinner is a way for them to be recognized for their effort by the staff of Youth Voices Center, Inc.
Arterberry's efforts and positive results are being noticed by experts in the law enforcement, educational and correctional fields, and his workshops continue to expand.
Beginning with a Bachelors Degree in Social Work from Iona College, Arterberry has had a long and successful career in working with youth. He began his career as a Case Worker, monitoring the care of children with foster families. He moved on to become an Independent Living Specialist, providing counseling, teaching life skills and ultimately touching the lives of hundreds of children. Arterberry then began working in the school system in Westchester as a Counselor. In this role, he participated in and implemented individualized service and support plans for at-risk youth and their families.
Arterberry's ability to reach out to, guide and encourage those around him has enabled at-risk teens to thrive in their communities. His enthusiasm for helping children become productive members of society has led him to a career in Youth Development and has fostered life-long friendships.
Recently, Arterberry was announced as the recipient of the Characters Unite Award by USA Network. He is one of eight winners selected from hundreds of nominees across the country. His efforts with the youth and the Power of Peace Program have been recognized by the Network.
The guest speaker at the December 7 dinner was Mayor Clinton I. Young, who stated: "You have established yourselves as leaders. The world doesn't need anymore followers – we need leaders, and Mount Vernon has a history of producing leaders like you. So, I wish to congratulate you on this special day."
After the mayor's speech, Debbie Butler, Youth Employment Coordinator for the City of Mount Vernon, who was accompanied by Elizabeth C. Abel, Deputy Director, Mount Vernon Youth Bureau, presented Arterberry with a Certificate of Appreciation.
"This initiative is an example that supports the Mount Vernon Youth Bureau's goal of empowering our young people to solve conflicts through communication and not violence," said Butler.
Arterberry can be reached at (914)329-3427 for additional information about his program.